shades
Angelic Nude
Dusty pinks, sparkly nudes, and sepias

1. Bliss - Shimmery plum pink
2. Beyond - Matte dark brown
3. Wonder - Matte clay brown
4. Halo - Sparkly champagne
5. Grace - Glittery icy pink
6. Glory - Glittery mauve pink
7. Eternal - Shimmery umber
8. Spirit - Matte dusty mauve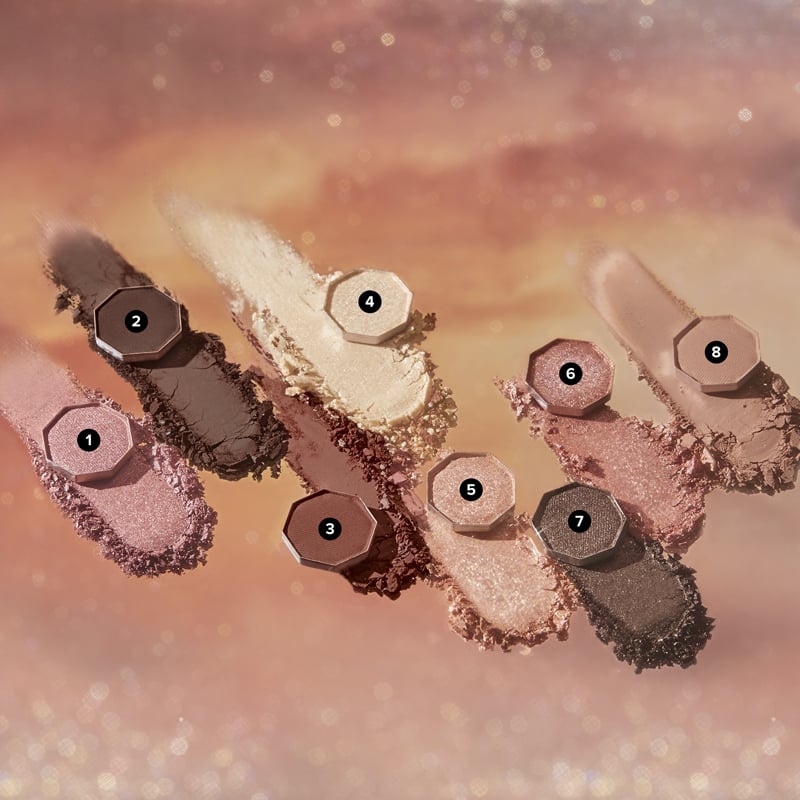 shades
Moonlight Silhouette
Rich moondust tones and soft silvery glitters

1. Eclipse - Shimmery metallic brown
2. Reflection - Sparkly pastel plum
3. Allure - Matte burnt umber
4. Lunar - Sparkly platinum silver
5. Ambient - Shimmery gold bronze
6. Haze - Matte lavender grey
7. Sensual - Matte cream
8. Midnight - Matte charcoal brown
shades
Celestial Glow
Champagne sparkles and muted nude browns

1. Divine - Shimmery platinum gold
2. Immortal - Shimmery copper brown
3. Ethereal - Sparkly vanilla gold
4. Infinite - Matte cedar brown
5. Peace - Matte caramel cream
6. Destiny - Sparkly bronze gold
7. Sublime - Sparkly taupe brown
8. Soul - Matte ivory cream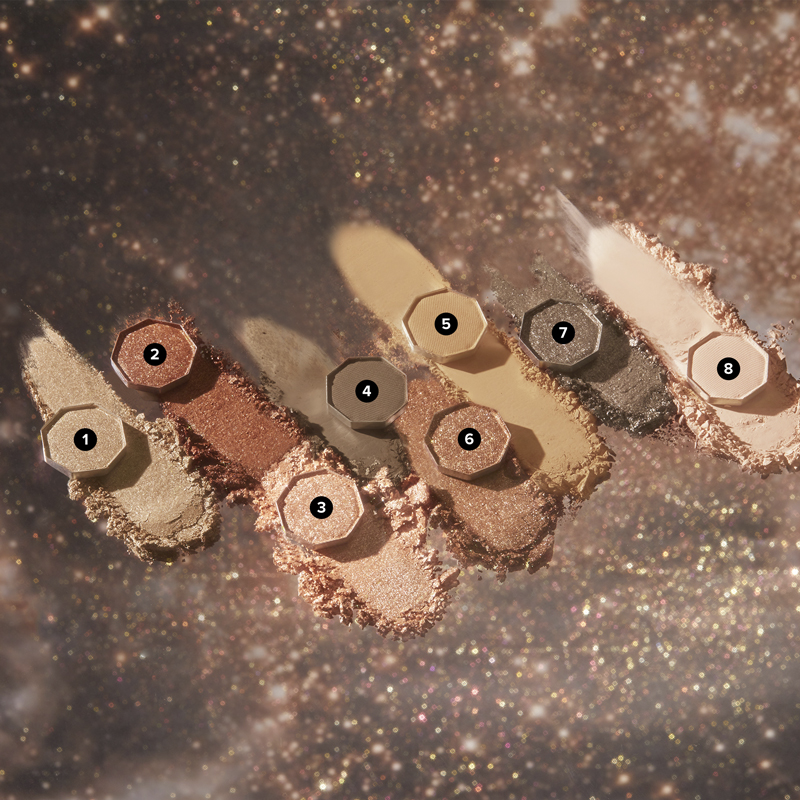 shades
Golden Goddess
Bronzed metallics and warm siennas

1. Wisdom - Matte caramel cream
2. Majestic - Shimmery bronze brown
3. Aura - Shimmery ivory shine
4. Lavish - Glittery desert sand
5. Ego - Matte brick orange
6. Beauty - Sparkly copper pink
7. Crown - Sparkly sunset gold
8. Intense - Matte dark sienna
Wet & Dry Formula
Quintessential shades in velvety mattes, silky shimmers, and high-sparkle glitters. Wet and dry formula offers intense color payoff with a buttery texture that effortlessly blends and builds to create customized looks.
Makeup Tip
Wet brush to maximize pigment saturation.
For glitter and metallic shades, apply with fingertips for maximum color payoff.
Dahlia Variabilis flower extract
All of our products are infused with patented Dahlia Variabilis flower extract, which is known for its proven antioxidant benefits. KR Patent No: #10-1920650
100% Vegan & Cruelty-free
Our 100% vegan and cruelty-free products are neither tested on animals nor use animal-derived ingredients. Our vegan formula boasts long-lasting, high-pigment color without the use of commonly added Carmine and Beeswax.