shades
Tea Party
Pink corals and neutral warm tones

1. Teacup - Matte / Neutral pink beige
2. Ginger Snap - Pearly Matte / Pale ginger with a subtle red shimmer
3. Carrot Cake - Mosaic Glitter / White, green, copper brown, and orange mosaic glitter flakes with a gold coral shimmer
4. Rhubarb Spritz - Glitter / Metallic blood orange with pink glitter
5. Raspberry Crumble - Mosaic Glitter / Orange, white, and lavender mosaic glitter flakes with a raspberry copper shimmer
6. Royal Milk Tea - Matte / Milky pink brown
7. Ganache - Matte / Dark chocolate brown
8. Sugar Bowl - Glitter / Metallic champagne gold
9. Sweet - Matte / Pale peach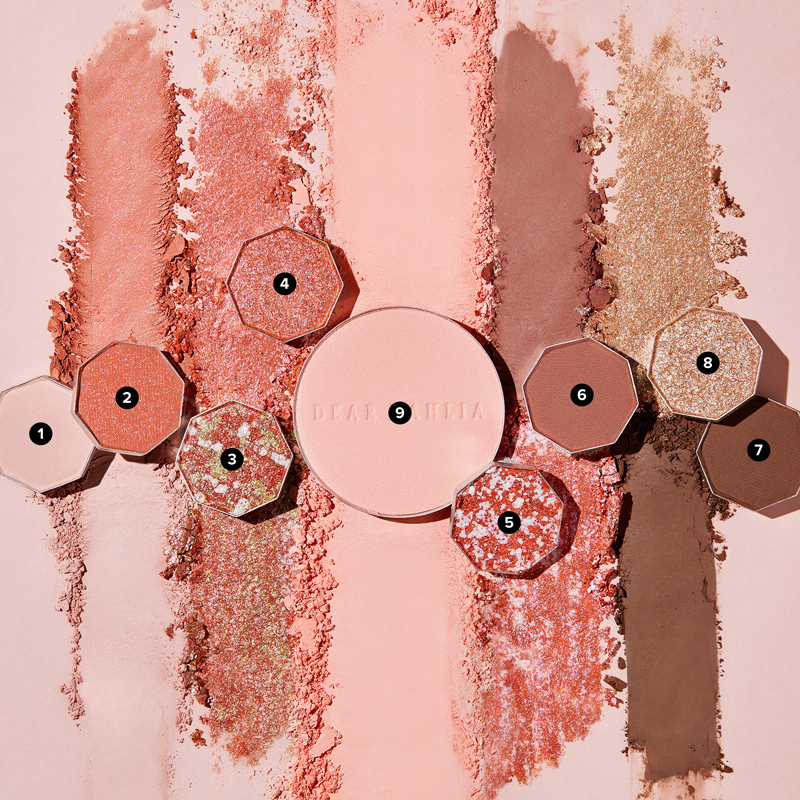 shades
Spring Bouquet
Muted violets and neutral cool tones

1. Innocent - Matte / Nude beige with a subtle white shimmer
2. Sunshine - Glitter / Metallic copper with gold, blue, and pink glitter
3. Monet - Mosaic Glitter / Pink, white, and olive mosaic glitter flakes with a pale violet frosty shimmer
4. Provence - Matte / Dusty lavender
5. Hummingbird - Mosaic Glitter / Pink and violet mosaic glitter flakes with a pink frosty shimmer
6. Organza - Glitter / Red, pink, and blue glitter with a frosty white shimmer
7. Romance - Matte / Dusty pink
8. Claude - Matte / Midnight violet
9. Scent - Matte / Pale lavender
shades
Flower Bed
Dusty roses and neutral tones

1. Flower Bud - Matte / Pale neutral pink
2. Day Breeze - Glitter / Metallic frosty pink with silver, blue, and gold glitter
3. Bouquet - Mosaic Glitter / Pink and white gold mosaic glitter flakes with a metallic pink shimmer
4. Petal Vibes - Matte/ Dusty rose
5. Sparrow - Matte / Deep ash brown
6. Twig - Matte / Deep mauve
7. Pink Dawn - Glitter / Metallic pink beige
8. Potpourri - Matte / Dusty pink mauve
9. Pure - Matte / Pale pink with a subtle shimmer
Wet & Dry Formula
The soft, romantic blush with buttery mattes, silky shimmers, and playful glitters in easy-to-use color combinations offers an assortment of makeup looks.
Wet and dry formulations allow for a versatile mix of finishes and color intensity.
Makeup Tip
Wet brush to maximize pigment saturation. For glitter and metallic shades, apply with your fingertips for maximum color payoff.
Dahlia Variabilis flower extract
All of our products are infused with patented Dahlia Variabilis flower extract, which is known for its proven antioxidant benefits. KR Patent No: #10-1920650
100% Vegan & Cruelty-free
Our 100% vegan and cruelty-free products are neither tested on animals nor use animal-derived ingredients. Our vegan formula boasts long-lasting, high-pigment color without the use of commonly added Carmine and Beeswax.